It was another cold start to the day. And, the forecast was not looking favorable to a good sail. We had talked about nosing into the Benjamin Islands for a day. But, with the winds and the narrow margin for error that the islands provided, we erred on the side of caution and decided to head for Little Current, ON. The biggest city on the largest freshwater island in the world (Manitoulin).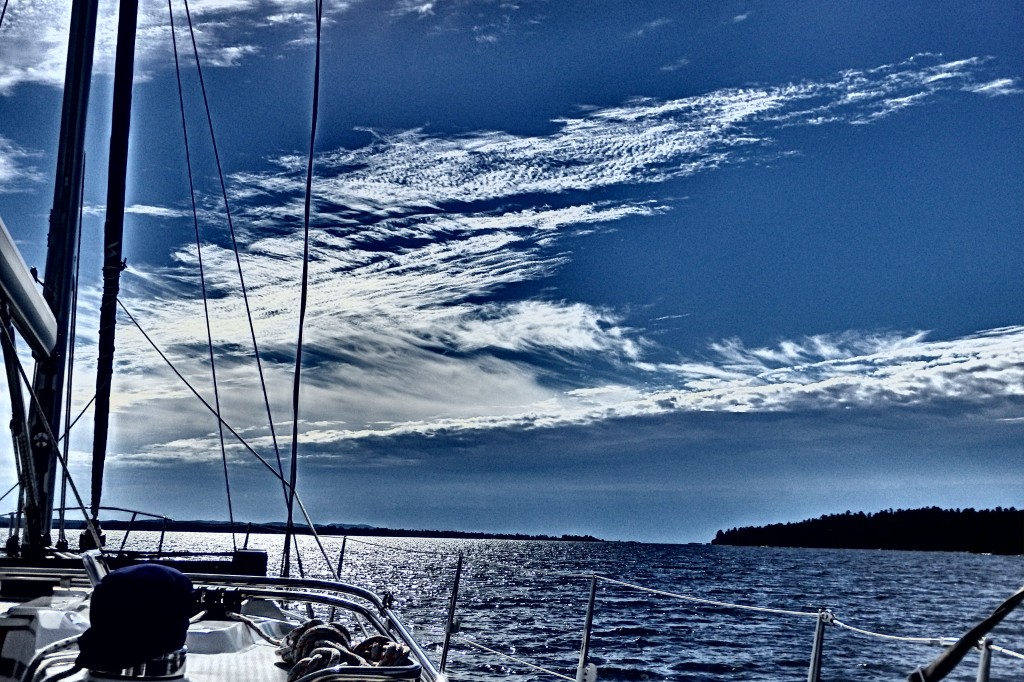 Transiting to Little Current was pretty miserable. The wind was on our nose pretty much the entire way through the islands (funneling effect) and on our way east. The skies turned overcast very quickly after we left Eagle Island and was threatening rain. Add to that 15 knot winds in our face blowing 50F temperatures like an air conditioner on steroids.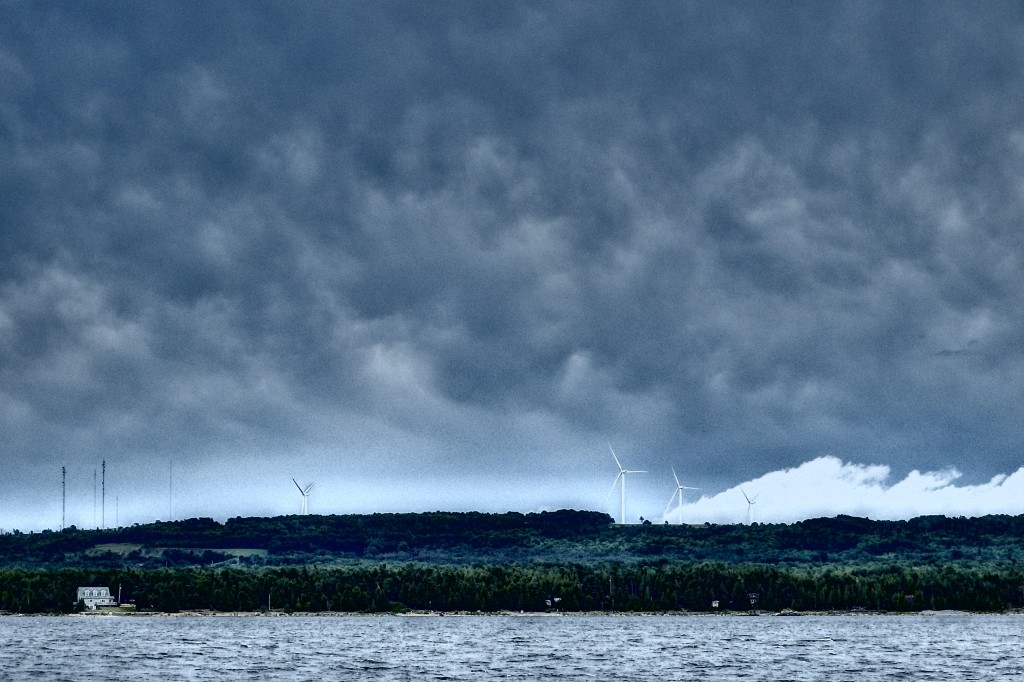 Docking in Little Current was a piece of cake. We were able to spot a space along the wall that outlined the main road in downtown. We pulled up and no one from the marina came out to meet us. We figured if there was something wrong, someone would come contact us. So, we locked her up and went to have lunch at the Anchor Inn.
The downtown area is pretty neat. A lot of little knick knack shops for tourists and the accompanying food venues. There was a laundromat, so we decided to take advantage of it; as it had been close to a week since doing any wash. While doing laundry, my dad happened to run across somewhat of a legend in the boating community, Jim Wooll. He is considered to be an expert on the Georgian Bay area; which we are headed to shortly. So, my dad arranged for all of us to have a few beers and pick Jim's brain on our proposed route to Midland, ON.
We all agreed on 5pm at the Anchor Inn. Which is pretty much the only option in downtown for food and liquor. But, it was a good one. We had lunch there and had planned on dinner there too a little later; as there was live entertainment scheduled from 8-10pm. My dad and I had a few pints of this fantastic Canadian Pilsner that we just discovered a few days prior in Gore Bay called Steam Whistle Pilsner. If you haven't tried it. You need to find a place that sells it. It's that good! I'm uncertain if they sell it in the states. But, I'm sure a quick Google search can aid that pursuit.
We had a nice little chat with Jim and his wife about the bay area and we were left for dinner. It was still early yet though. And, after we finished eating, there was still another hour until the entertainment. It had been a long day and my dad was ready for bed. But, I still had a good deal of energy left in me. We parted ways at the restaurant doors and I was off to explore what Little Current had to offer.
I meandered for about an hour into any of the shops that were open chatting with the locals on where I should go next or what to see tomorrow. I eventually ended up back at the Anchor Inn and bellied up to the bar to watch the one man show; who is their main performer from now (it was his first night of the season) until the end of August everything Thursday. I chatted with the bartender about beers and got his suggestions on what Canadian brews that I should try while I'm up here. I tried the Rickards Red, a Shocktop Wheat, and again the Steam Whistle Pilsner. All were excellent.
The show wasn't bad either. However, I didn't actually listen to much of music; as Dick from the Marla D came to join me at the bar. We had a great conversation with he and his wife, Marla, earlier in the evening over dinner. Both of our boats have been tracking each other fairly closely at every port we've been in. They're fantastic people and I really enjoyed getting to converse with Dick over a few beers. Dick even ran into another boater couple from his home port in Traverse City, MI. Small world!
The night didn't end too late. But, I stuck it out until a little before close at the Anchor Inn (11pm EST). The entertainer kept on belting it out until the end too; as about 20 mildly intoxicated boaters kept singing along, dancing, and tipping well. It was a fun night for all.
Tomorrow is Independence Day and the 10th anniversary of the Cruisers Net broadcast here in Little Current. Should be a fun day!
Eagle Island, ON (CN) to Little Current, ON (CN)