The night at anchor in Severn Falls was relatively peaceful. However, it was Friday night and the boat traffic was rather heavy. Even into the night. It didn't bother me much, as the rocking of the wakes against the hull lulled me to sleep.
We had a relatively stressful trip into Port Severn with all the narrow and shallow areas; even with the water levels being "up." Waking up in the morning, my anxiety level was already heightened for what lay ahead.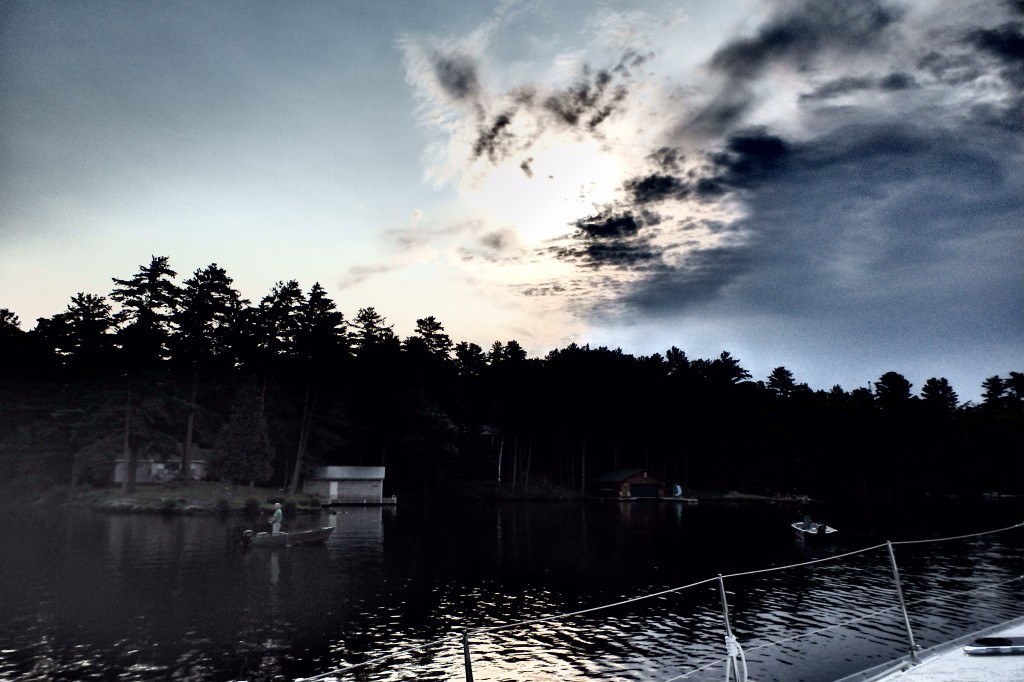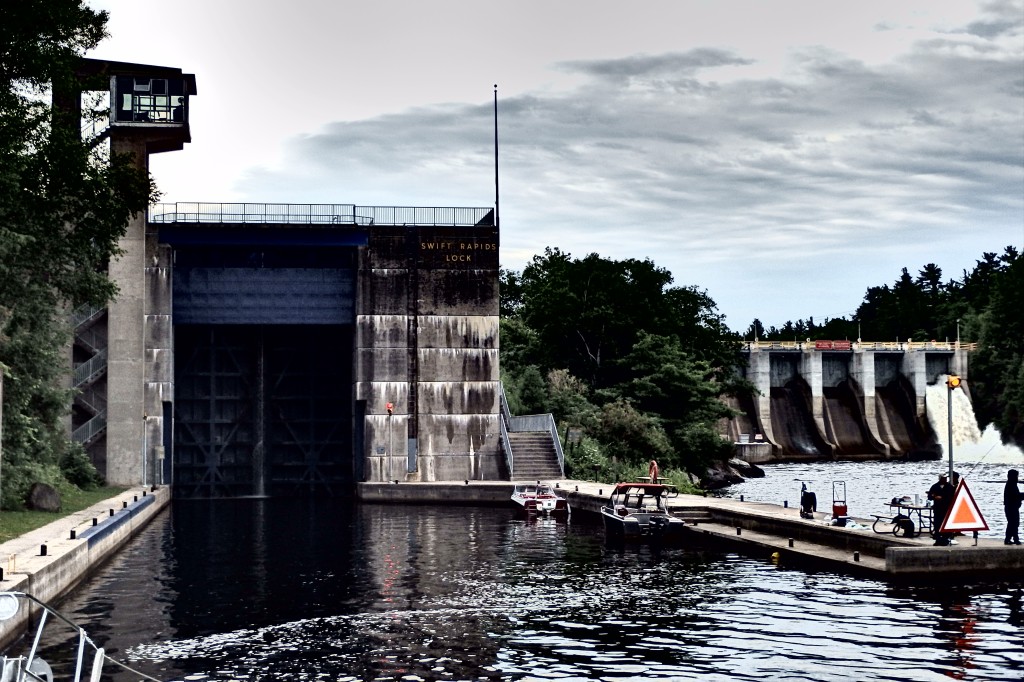 We started out with great aspirations of making a good 20 miles. However, becoming quickly fried with stress from navigating, we sought the closest port that we could either anchor or tie up in. Unfortunately, there were really no solid anchoring areas that would protect us from the wind. Sparrow Lake is pretty much an oval; and a shallow one at that. So, we called around on the VHF and cell phone trying to find a marina that could accommodate us and our boat.
We found one after about 30 minutes of confusion and a lot of my dad's favorite words being thrown around: Think, Should, and Probably. It was a long shot though. The depths in the lake even from a mile out were all around 5-6ft deep. We took our sweet time coming in; as we did not want to run aground on any rocks.
Fortunately for us, we were able to make it into the marina's "shop dock" without incident. Our place in the marina wasn't confirmed though. The manager said that we could tie up and get lunch, but she was full for the evening. So, we decided that we'd have lunch at the restaurant attached the marina (under the same ownership) and try to make nice with the manager and staff.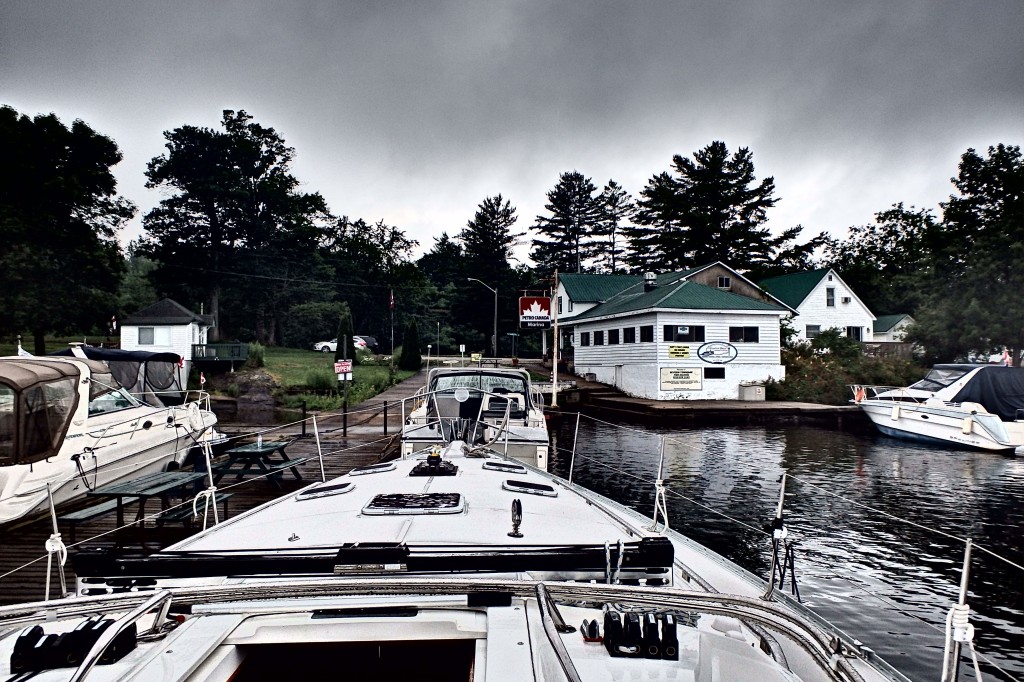 Our ploy seemed to have worked. As their already booked boats came in, they diverted them around us so that we could ultimately stay the night; as we had indicated it was our intent. I think that they just wanted the extra cash 🙂 Initially though, they tried to convince us to put our boat on a dilapidated dock that they had never used before. Yes, please let me park my Ferrari on your questionable piece of wood/cement monstrosity. I should have gotten a picture of it. It had to have been listing at least 15-20 degrees to one side. NOT GOOD.
As the day wore on and more boats came in; we stayed put. It wasn't until a little before close that one of the dock staff came out and said that we were good to go. This made us happy. Because we were fried and needed a good night rest.
The evening wasn't too eventful. We had dinner at the resort just down the road and even had a little excitement with a sea plane landing right in front of us:

My dad and I both slept like rocks. But, we both woke up with the familiar feeling of foreboding as the day prior. Not a good sign. Nevertheless, determined to conquer or fears, we shoved off.
Leaving Port Stanton, we were heading for a manmade channel that would lead us to the Couchiching Lock (#43). Even though manmade, the depths were all over the place. I was at the helm; as my dad likes for me to navigate through the narrow stuff. We came up to the lock doors without incident. However, there were some very trying times! Our depth sounder is all over the place when we come into weeds. And, when there looks to be rocks in the river and our charts say that there's rocks and our depth sounder dives from 7ft to under 5ft in a blink of an eye, it gets your attention.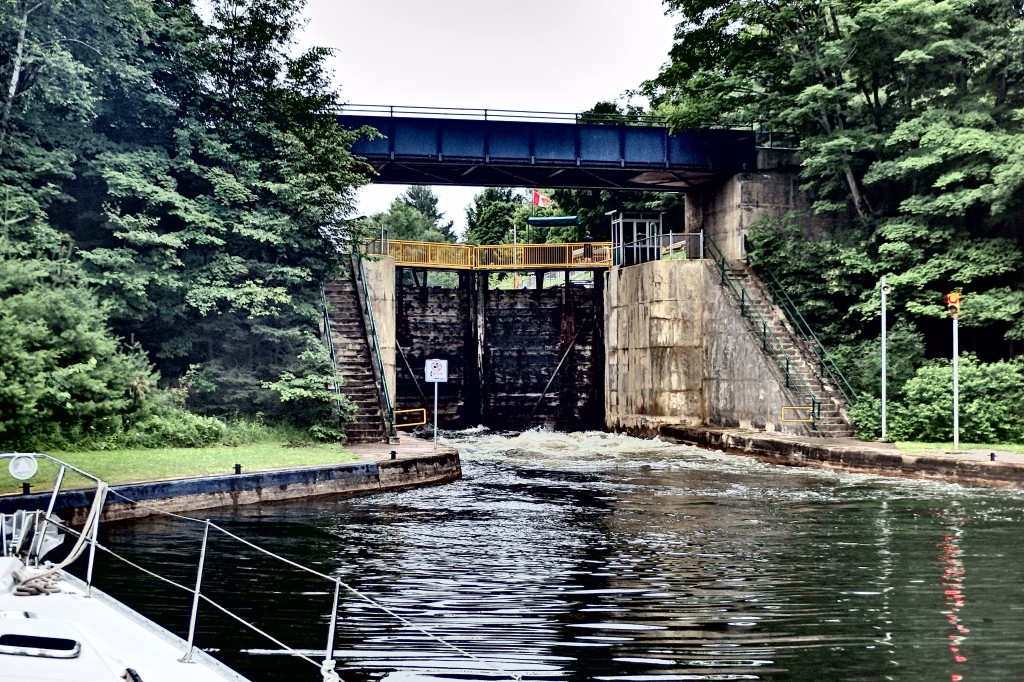 We dealt with this ALL DAY. For roughly 7 hours. It didn't matter if we were in the channel or out in Lake Couchiching. The lake was just as bad. There was 7ft here, 25ft there. Bump up the speed in the 25ft areas… Wait no, bring it down to neutral immediately! Come to port. No starboard. Depth at 4ft..3ft…2ft… What is going on? Not fun when you're playing with a half a million dollar toy. I don't have any severe heart issues, but this might be my undoing!
After going through the "bowling alley" in Lake Couchiching and all the back and forth moments of torture, we were done. Our plan was originally to continue through Couchiching and dock at the first lock after Lake Simcoe, the Gamebridge Lock (#42). But, once out into somewhat deep water 30ft, we put it in neutral and called around to find a marina to pull into.
We got lucky on our first try and reserved a slip at the Port of Orillia Marina. It wasn't without the normal noncommittal banter between my dad and the dock staff full of his favorite words again. Nevertheless, we again proceeded very slowly into more 5-6ft waters with unknown obstacles. Thankfully, they put us at the end of a T-dock where we could easily maneuver in and out.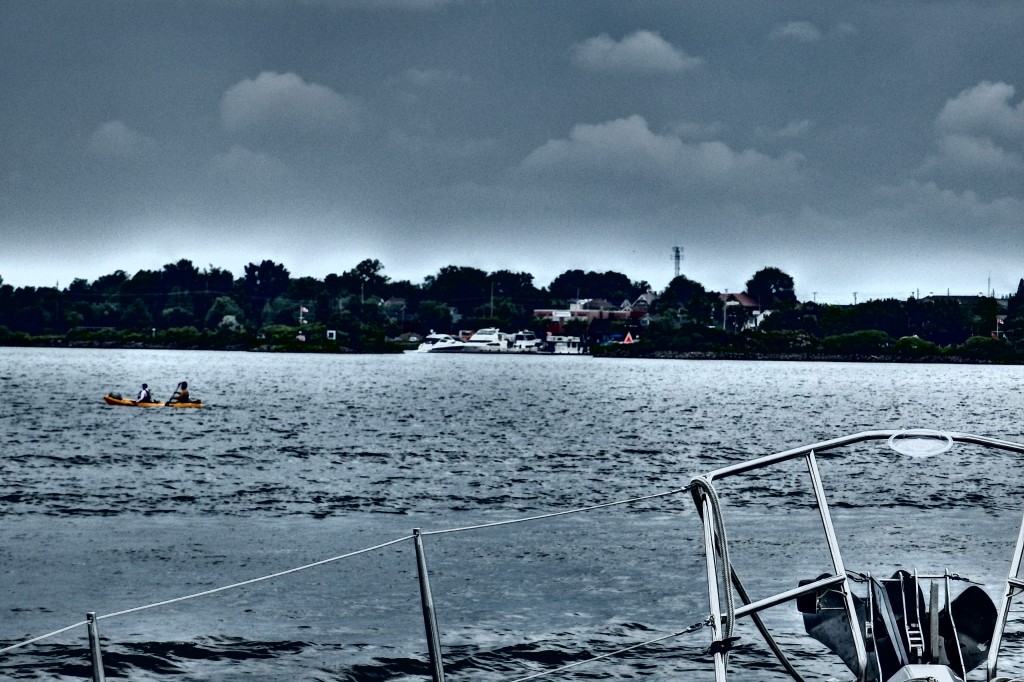 After tying up the boat. We needed food and something to drink. It had been a long, tormented day. And, my dad had already to talk about having the boat taken out of the water and shipped to the Hudson River.
Coming back to the boat after a good meal, I settled down to read below deck. While this was happening, another sailboat came into the marina. My dad went over to chat with them and came back with a gloomy pallor.
The people on the sailboat were doing what they refer to as the "Triangle." It's a route that uses the Trent-Severn and Lakes Ontario/Erie. They had just come from the direction we were planning to head the next day. In the last day alone, they had run aground 3-4 times, got stuck in a lock, hit a submerged tree…you name it- they hit it. Their boat was about 35-40ft long and had the identical draft as ours at 5ft. They were just miserable and told my dad that never in a million years would they do this again in a sailboat. And, that it only got worse as we headed East (our direction). This was all my dad needed to hear.
Over the course of the night, my dad began to formulate his plan to have the boat hauled out and shipped to the Hudson River. A call the next morning to the Peterborough lock (Trent-Severn Waterway HQ) further solidified his plan; as the representative on the phone confirmed that they were letting a lot of water through to decrease the water levels. And, that at 5ft of draft, it would not be advisable to continue East. Ugh!
My dad spent all of yesterday making arrangements for the boat. We needed to get it hauled, find a shipping company for the mast and the boat, prepare documents for customs, and arrange transportation for ourselves. It was a big task. But, he eventually got it all done and feels comfortable with the parties that we're working with. Especially the trucking company.
So, that's where we're at. The mast is being picked up in Midland tomorrow, Wednesday, July 23rd in the morning and we also have an early AM appointment at Marina Del Rey in Orillia the same day to have the boat hauled out in prep for the truck to pick it up. It will meet us two days later back in the US in New Baltimore, NY.
HASTA LA VISTA TRENT-SEVERN!