Gary-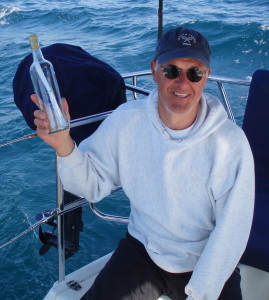 I grew up poor in the Allegany mountains of western New York. I never went without anything and my mother insisted I go to college. I am forever indebted to her. The thought of sailing and owning a sailboat never entered my mind at this time.
I always needed a passion in my life. I needed something to be the best at. In high school it was baseball and I was good enough to get a try out with the New York Yankees. I was also a member of a basketball team that won a state championship. I liked being a winner.
In college I struggled to find my passion (other than coeds). I played baseball and basketball but there was no future in it. Academically I was average. I went to graduate school but dropped out for lack of motivation.
I've had several different jobs but found my niche professionally in chemical sales. I learned as much as I could and prospered. I met and married the love of my life, Mindy, sired two children, Joey and Jenna, and found another passion – tennis. I could not put the racquet down. I've won a couple state of Wisconsin championships, a gold, silver, and bronze medal in the state Olympics, and several local tournaments. I exceeded my expectations but also realized I had reached my potential. I still play tennis a couple times per week but it was time to move on. I needed a retirement passion, something new and challenging. Enter sailing.
On a Sunday afternoon at Peninsula State Park in Door County, WI (often described as the "Cape Cod of the Midwest) my wife and I watched sailboats sailing past noiselessly. Typically , two people relaxed in the cockpit, enjoying the day. Two weeks later we chartered a captain and boat for 4 hours. Sailing conditions were perfect and I was hooked. Long story short, the following spring I took sailing lessons, a safe boating course, and purchased a brand new Catalina 350 (Sea Biscuit). The following season we bought a Catalina 42 (Dolce Vita) and two seasons later a Catalina 445 (Carpe Diem). A fool and his money are soon parted.
At the end of the 2013 sailing season I approached my wife and son about sailing to the Caribbean. My son, Joey, was all in. It meant quitting a pretty good job, selling his car, and leaving a keeper of a girlfriend behind. Mindy does not share my passion for sailing and wants to help our daughter with her first baby due in May. It was decided she would catch up with us later for brief visits. Joey and I have a set sail date of June 1, 2014. We plan on being gone a year or more.
CARPE DIEM
---
 Joey-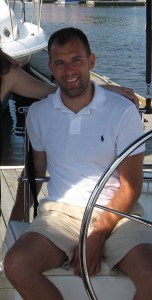 A restless-rascal-wanderer are the words that I would use to describe myself. I'm 28 years old and have had more jobs after graduating college than I can shake a stick at. However, I tend to find success wherever I go and with whatever I put my mind to. I'm a hard worker; and like my Father, I too like to be a winner.
My inability to be consistent aside, I've been very fortunate in life. I have two wonderful parents that have provided me with every opportunity that a person could wish for. Travel has been a very large part of this since a young age and I've been able to broaden my horizons through all of the wonderful and different cultures I've traveled to. Sailing was another gift bestowed to me by my parents (in particular, my Father). We both share a passion for the water and I am so incredibly happy to be able to share this journey with him. It's something that I will cherish for a lifetime.
~When the winds are over 20 knots with the rail in the water eliciting spray to fly aft as the boat dives into the swells, I feel alive.
---
 Mindy-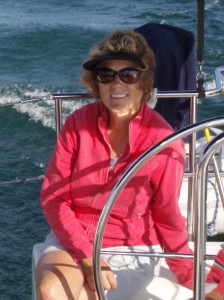 As the least adventurous sailor on Carpe Diem, I am Gary's wife and self appointed "part time" crew member. I am also Joey's mom, a teacher, and soon to "grammy". I'll join the journey along the way. Our daughter, Jenna, is having her first baby, and I'm very anxious to spend time with a new grandbaby!!
I love being on the water, but I'm a fairweather sailor who suffers from seasickness. My first attempt at sailing was taking a lesson from the Hoofer Sailing Club while a student and naive daydreamer at the University of Wisconsin – Madison. I failed miserably at keeping my keelboat upright and decided I would admire the sport from afar. I never expected to have my own sailboat.
I set out to make a difference for mankind, but I think in reality, humankind has influenced a greater change in me. Both Gary and Joey have encouraged me to think outside my realm. I admire their curiosity, spirit, and desire to embark.
May your memories be meaningful and lasting, your skies sunny and sailing winds fair; have the time of your lives!!